About JHCN
The Jewish Hospice & Chaplaincy Network (JHCN) is a non-profit agency dedicated to ensuring no Jew is ever alone when facing a life-limiting illness. JHCN presents individuals and their families with the best care options and offers social work support, patient advocacy, spiritual care, life enriching programs, volunteer visits and bereavement services.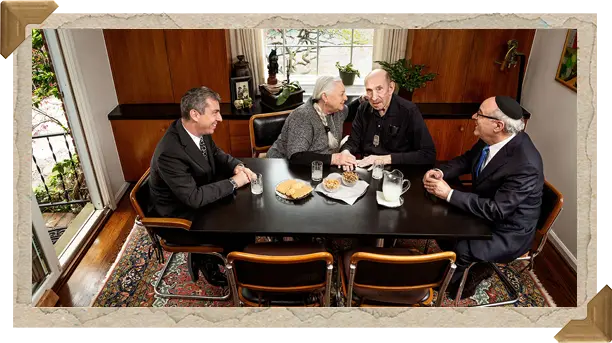 We provide caring and compassionate support.
We respect each patient's religious beliefs and traditions.
We empower the patient and family to actively participate in their care.
We embrace change, innovation, and continuing education to provide excellence in care.
We strive for mutually beneficial relationships with caring professionals to better serve every patient.
JHCN's History
The Jewish Hospice and Chaplaincy Network (JHCN) was founded in 1999 by Rabbi E.B. (Bunny) Freedman to fill a gap in end-of-life care for hospice-eligible individuals who identify as Jewish or part of a Jewish family. Spiritual care – a mandated hospice benefit – is almost universally provided by non-Jewish chaplains/clergy. Rabbi Freedman formed a team of rabbis to fill this need for the metro-Detroit Jewish community. Soon after, he added care navigation services to help families find their way through the complexity of end-of-life care.
In March 2008, JHCN hosted the inaugural Henrietta and Alvin A. Weisberg Caring Coalition Conference for professional caregivers and healthcare partners in southeast Michigan. This daylong accredited education conference on end-of-life caregiving features nationally recognized speakers. The annual Caring Coalition Conference continues to attract nearly 1,000 attendees and more than 60 partnering sponsors each year.
In May 2015, the LifeLinks program was launched to meet the needs of individuals diagnosed with a terminal illness who are not ready or eligible for hospice care or who plan to continue curative treatment. LifeLinks doubled the number of individuals served by JHCN, connecting them and their families to supportive and/or palliative care.
In January 2017, the Life Enrichment program was created to enhance the daily lives of patients through live music, pet visits, salon services, art, massage and reflexology, legacy books, gentle exercise and more.
In January 2022, JHCN began to implement a new vision to best serve the next generation of patients and families. JHCN transitioned from an exclusively contingent spiritual care team to add three full-time rabbis; expanded the patient care team; initiated a bereavement program; and named long-time senior director Rabbi Joseph H. Krakoff as Chief Executive Officer.
JHCN is funded solely by donations.
Patients and families are never charged.