Strength in Motion
Participants engage in a personalized exercise program, a benefit often unavailable through insurance. Gentle exercise visits present an opportunity to preserve strength and improve mood.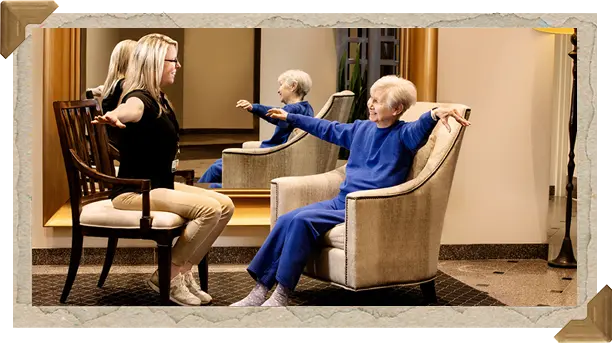 Gentle Exercise Benefits
Maximizes functional abilities
Promotes self-confidence and independence
Eases pain and symptoms
Decreases fatigue
Reduces fall risks
Details
One-on-one interaction
In-person or virtual
Licensed physical therapists
Customized levels of activity
Caregiver training to encourage maintenance
JHCN does not charge for any of its services. You'll never receive a bill.
Gentle Exercise Enrichment Funds
Louis and Edith Blumberg Foundation Gentle Exercise Fund in honor of Louis and Edith Blumberg and Graham and Alene Landau
To learn about creating a named fund contact Megan Topper
248-592-3969 or mtopper@jhcn.org