Let My People Sing
Participants enjoy Jewish music with a musician and/or Cantor. Music plays an integral role in Jewish identity. It links the generations and connects patients and families to cherished memories and traditions.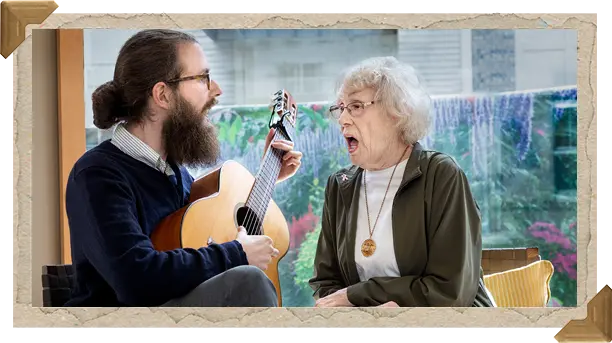 Jewish Music Enrichment Benefits
Fosters feelings of joy
Nurtures spiritual expression
Strengthens connection to Jewish holidays and special occasions
Promotes engagement
Reduces anxiety and stress
Details
One-on-one interaction
In-person or virtual
Jewish music specialists/Cantors
Prayers, blessings, folk and camp tunes
Songs in English, Hebrew and Yiddish
Family participation option
JHCN does not charge for any of its services. You'll never receive a bill.
Jewish Music Enrichment Funds
Cathy Brody Deutchman Jewish Music Fund in honor of her mother Rhea Brody
To learn about creating a named fund contact Megan Topper
248-592-3969 or mtopper@hcn.org