Frequently Asked Questions
We are here for you. It is never too soon to reach out.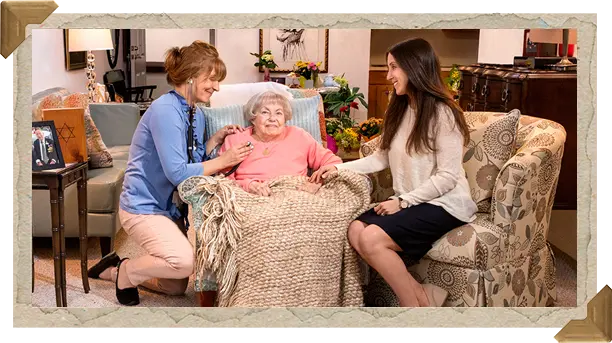 JHCN is a non-profit agency dedicated to ensuring no Jew is ever alone when facing a life-limiting illness.
Any individual diagnosed with a life-limiting illness who identifies as Jewish (regardless of affiliation or level of observance) or any member of a Jewish family.
Hospice care prioritizes comfort and quality of life by managing pain and suffering near end of life for individuals not pursuing curative treatment. JHCN presents individualized care choices to patients and families.
It is never too soon to reach out. JHCN helps individuals at every stage of a life-limiting illness from the time of diagnosis with supportive, palliative and hospice care options. The sooner an individual gets connected to JHCN, the more they can benefit.
Supportive Care: For individuals who are not in need of or interested in palliative or hospice care
Palliative Care: For individuals seeking pain and symptom management, with the option to pursue curative treatment
Hospice Care: For individuals who are seeking comfort care and are not pursuing curative treatment
Care Navigation: Care coordination, advocacy and social work, connection to resources and volunteers
Life Enrichments: Enhancing quality of life through in-home or virtual visits (Art, Gentle Exercise, Guided Imagery, Jewish Music, Legacy Books, Massage and Reflexology, Movement on the Mind, Music, Pet Visits, Shabbat Celebration, Salon Services)
Spiritual Care: Rabbinic guidance regarding questions, challenges and concerns in accordance with one's beliefs.
Bereavement: Groups or individual sessions with Rabbis and social workers support mourners through an emotionally challenging time, before and after a loss.
No, JHCN is not a medical provider/hospice. JHCN ensures those facing a life-limiting illness receive the best care possible by presenting individualized medical care options and providing additional life-enriching services.
Yes. JHCN collaborates with the medical provider/hospice, hospital, physician or health care agency you've chosen to ensure that individuals facing a life-limiting illness receive the best care possible.
JHCN provides services wherever a patient calls home – private residences, hospitals, assisted living facilities, adult foster care homes, nursing homes and in-patient hospice units.
No. Patients and families will never receive a bill. JHCN, an independent 501(c)(3) organization, is funded solely by the generosity of those who recognize its benefit to our Jewish community. JHCN does not receive government reimbursements or insurance payments.
JHCN is funded solely by donations.
Patients and families are never charged.