Sylvia and Samuel
Babcock
Life Enrichments Program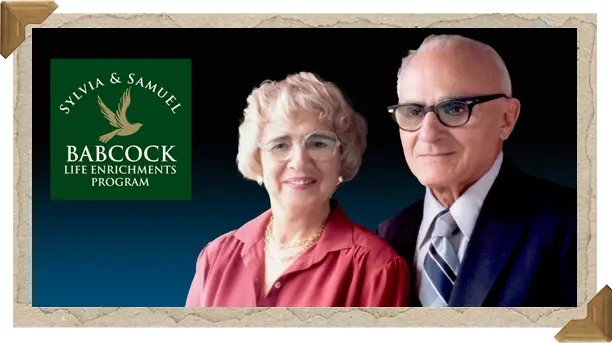 Sylvia and Samuel Babcock were true role models of a beautiful, respectful and loving marriage.
Sylvia was born in Pontiac, Michigan, the youngest of thirteen siblings, with her family being the first Jewish one to settle in the area. Sylvia's mom was originally from Lithuania, and she kept an Orthodox household. Sylvia's father became president of the Pontiac shul, Temple Beth Jacob. Sylvia attended Pontiac High School and began her college career at the University of Michigan, going on to earn her Master of Fine Arts degree and teaching certificate from Wayne State University. After graduation, Sylvia worked as a substitute teacher.
Samuel was born in Detroit, the third of four siblings. His parents came to the United States from Poland and maintained a kosher home. Samuel attended Central High School where he was all state in football, basketball and track and president of his senior class. He earned his undergraduate degree in pre-law at the University of Michigan where he played basketball and was halfback of the football team, the first to play in the new stadium. Ultimately Samuel attended law school at the University of Detroit.
As the story goes, Samuel was friendly with one of Sylvia's brothers and that is how they initially met. They were wed at Sylvia's house in Pontiac on August 18, a marriage that lasted for over 50 wonderful years. Samuel, who lived to be 86 years old, was a very smart, honorable and principled man. He had a strong work ethic, loved dogs and worked in the scrap metal business, becoming president of the Institute of Scrap Recycling Industries.
Samuel always put Sylvia on a pedestal and absolutely adored her. She was a dental hygienist who was even-tempered, independent, wise, loving and family oriented. She never raised her voice and was always there for her family. Sylvia liked to paint, sculpt, do metal work, cook, play the piano at dinner parties and sing, as she did in the volunteer choir at Temple Beth El.
Sylvia and Samuel Babcock loved playing bridge, gardening and giving a great deal of their time to volunteer work. Much of their efforts were with the Jewish Community Center where Samuel coached basketball and Sylvia volunteered at the book fair and served as vice president. Additionally, Sylvia was active with the Jewish Historical Society Advisory Board, the Temple Beth El archives, National Council of Jewish Women and Jewish Federation's Annual Campaign and archives. Most importantly, Samuel and Sylvia were the most kind and loving parents to Nancy and Robert.
Nancy and Jimmy Grosfeld honored Sylvia and Samuel's legacy by establishing the Babcock Life Enrichments Program at Jewish Hospice and Chaplaincy Network. Nancy is grateful to JHCN for taking care of her father when he was diagnosed with cancer and for tending to her mother's needs throughout the time she had dementia. Nancy, who fondly remembers growing up with a tzedakah box prominently placed in her home, spoke of how both of her parents would have loved the Life Enrichments: "These amazing offerings are so special and important. They enrich the lives of patients and their family members, giving them something to look forward to and something to enjoy."
To contribute to the
Sylvia and Samuel Babcock
Life Enrichments Program